The August 25, 2022 Forest Service Trail Condition Reports for the Glacier View and Hungry Horse Ranger Districts have been posted to the website Trail Conditions page.
These reports contain a fair amount of useful information. Besides trail conditions, they include trail numbers, their official names and end-to-end mileages. The reports may also list information on trail and area closures, especially during fire season.
The current fire danger is VERY HIGH.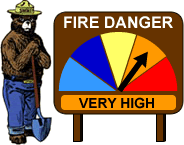 NOTICE: Due to the Weasel Fire, the following trails are closed:
Thoma-Tuchuck #19
Tuchuck Ridge #114
Tuchuck Creek #23
Review Mountain #113
Trail Creek Road #114 is also closed to ALL unauthorized use as of August 22, 2022, for much needed road maintenance. The road work runs from 3 miles west of the junction of Trail Creek Road and the North Fork Road to Trail Creek Road's junction with Road #319 on the Kootenai National Forest. This work is anticipated to take up to 4 weeks to complete.